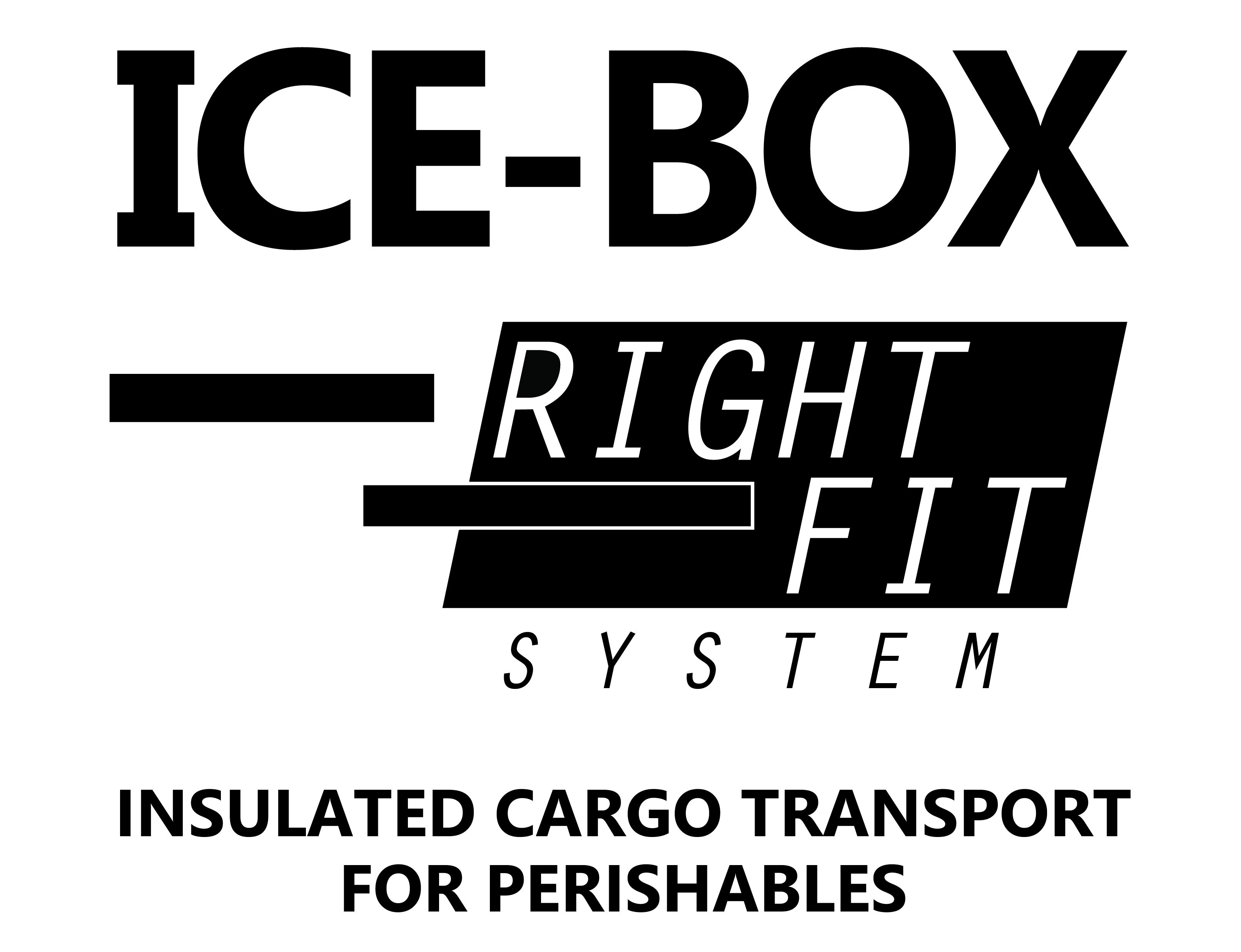 ICE-BOX RIGHT FIT™
Not oversized, not undersized.
Hundreds of choices to fit your requirements.
ICE-BOX RIGHT FIT™ is the ultimate in thermal insulated cargo transport containers. Features include: economical, variety of sizes, 1 way or reusable, molded EPS foam with tight fitting lids and components.
Select desired options such as foam units, foam units with KD telescoping corrugated box or foam units with wood crates and skids. Improved refrigerants and patent pending systems control and stabilize temperature sustainability.
Any bulk product that is temperature sensitive can be safely shipped in our ICE-BOX RIGHT FIT™ Insulated Cargo Transports.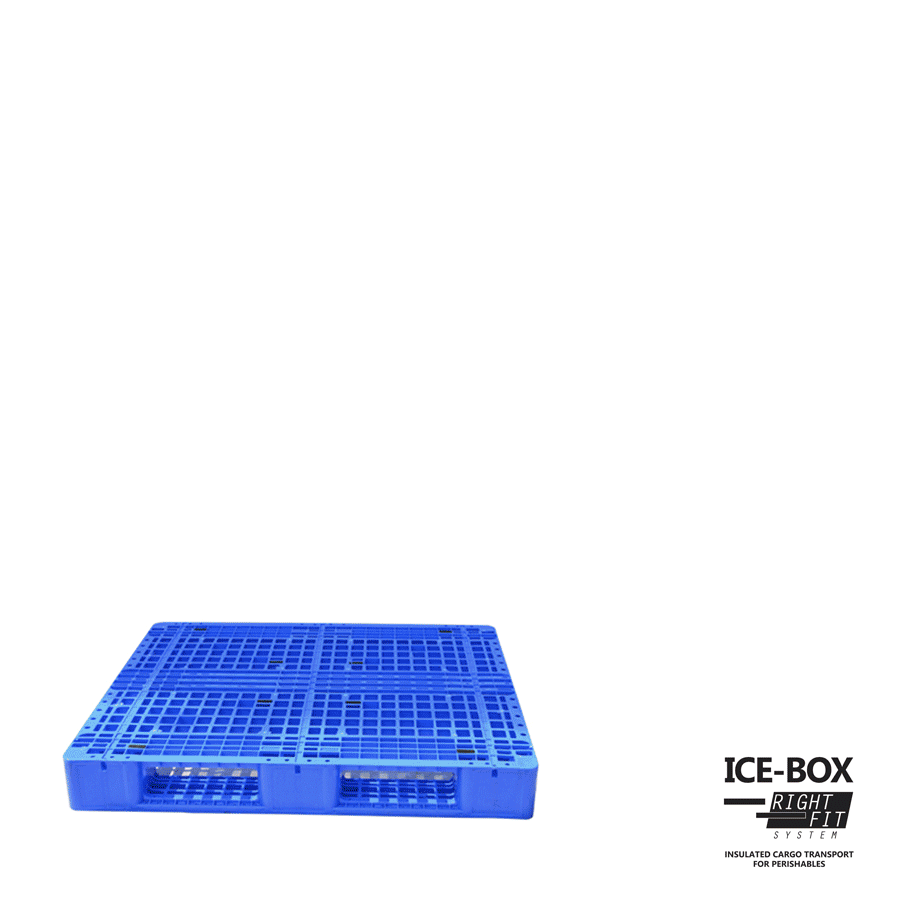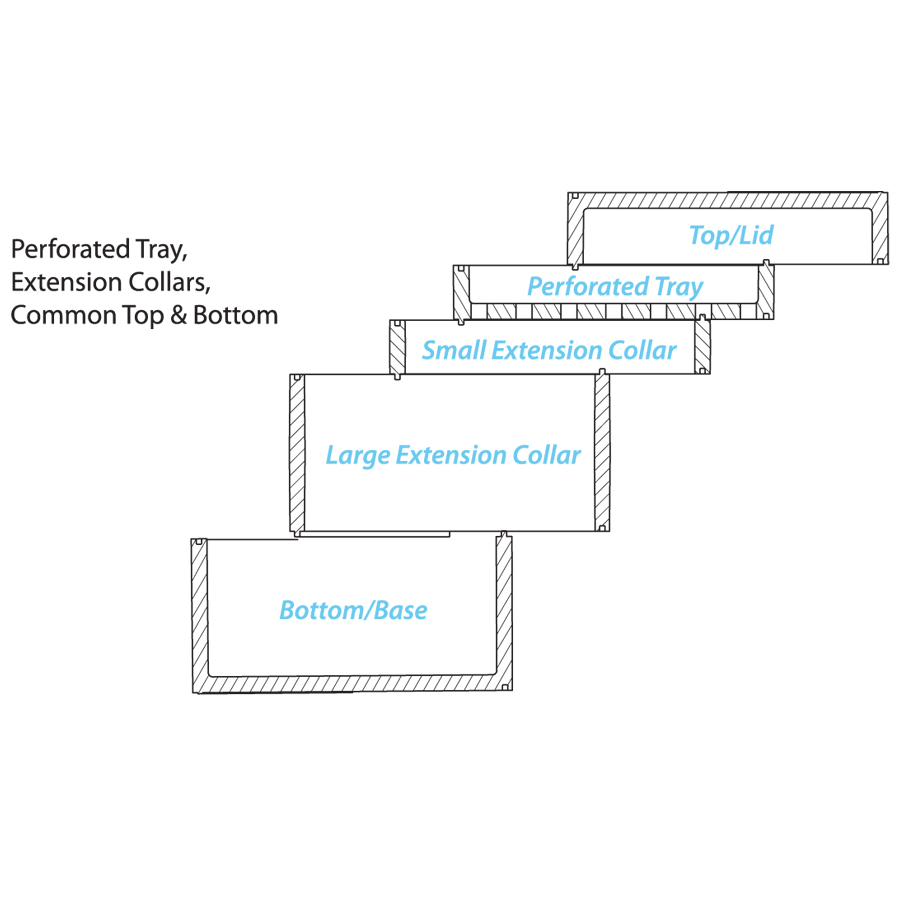 Partial Telescoping Containers
Partial telescoping (PT) adjustable two-piece easy load design box expands taller to accommodate various heights. Sold as a complete two-piece adjustable partial telescoping box. Assemble a PT box for insulated foam collars.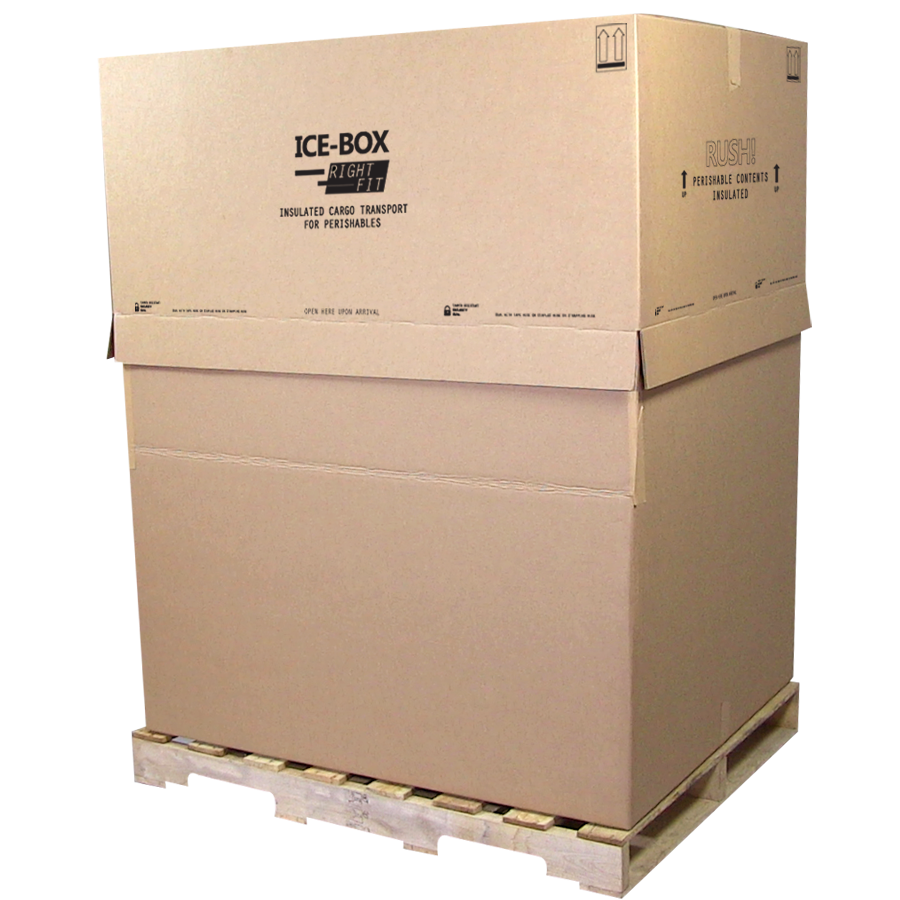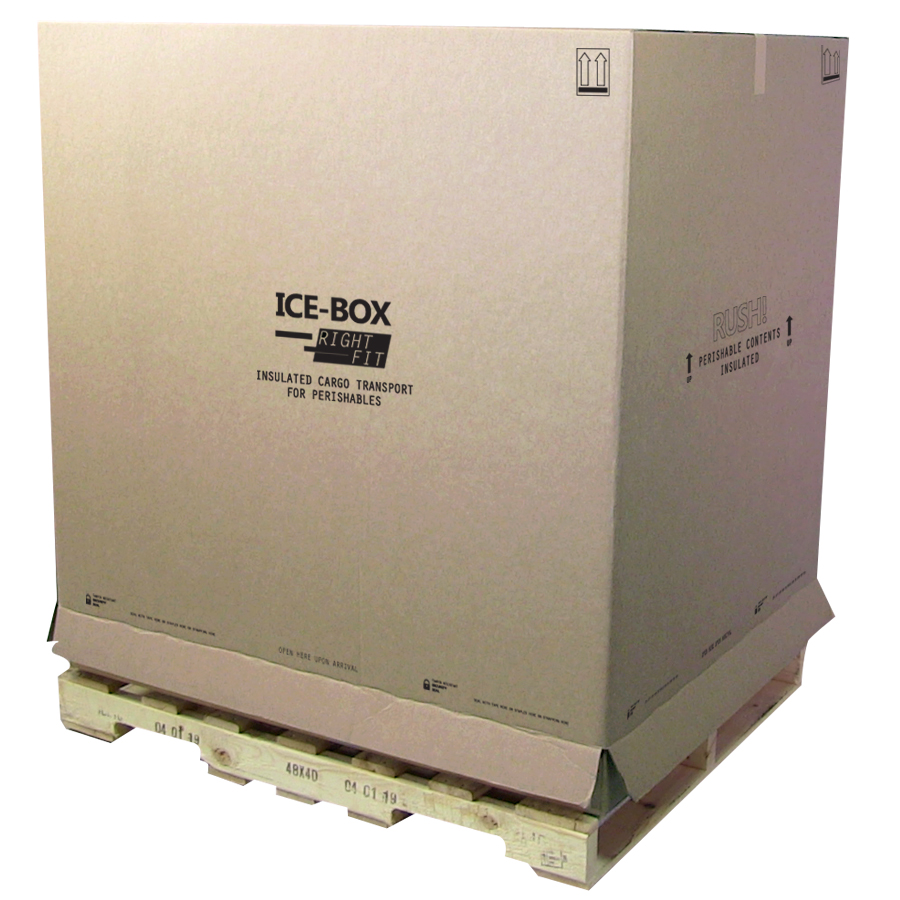 Top Lid
Position corrugated lid over insulated liner and bottom corrugated box. Top lid is printed with ICE-BOX RIGHT FIT™, insulated for perishables and up arrows, 275# single wall corrugated. Optional self seal permanent adhesive closure, tamper evident feature available upon request.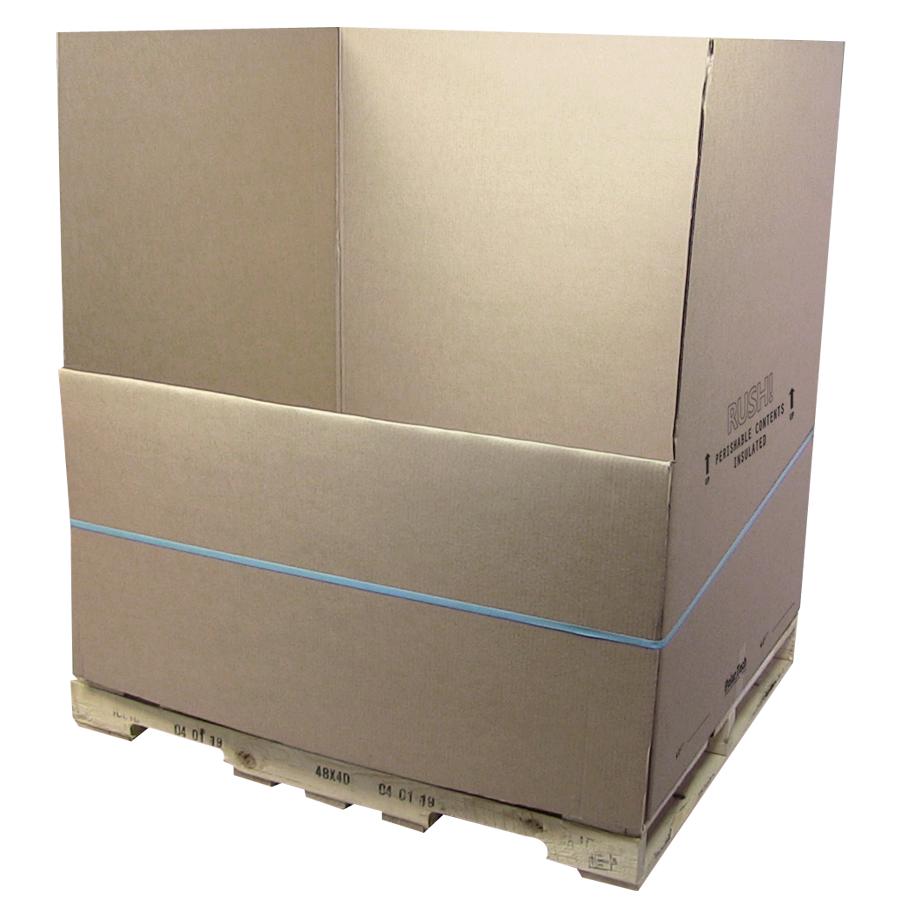 Bottom Base
Bottom telescoping base is ergonomically designed with slit and scored drop down front panel, ideal when bottom portion is loaded. Position flap up and secure with tape. Heavy duty 350# (DW) double wall provides durable protection during transit.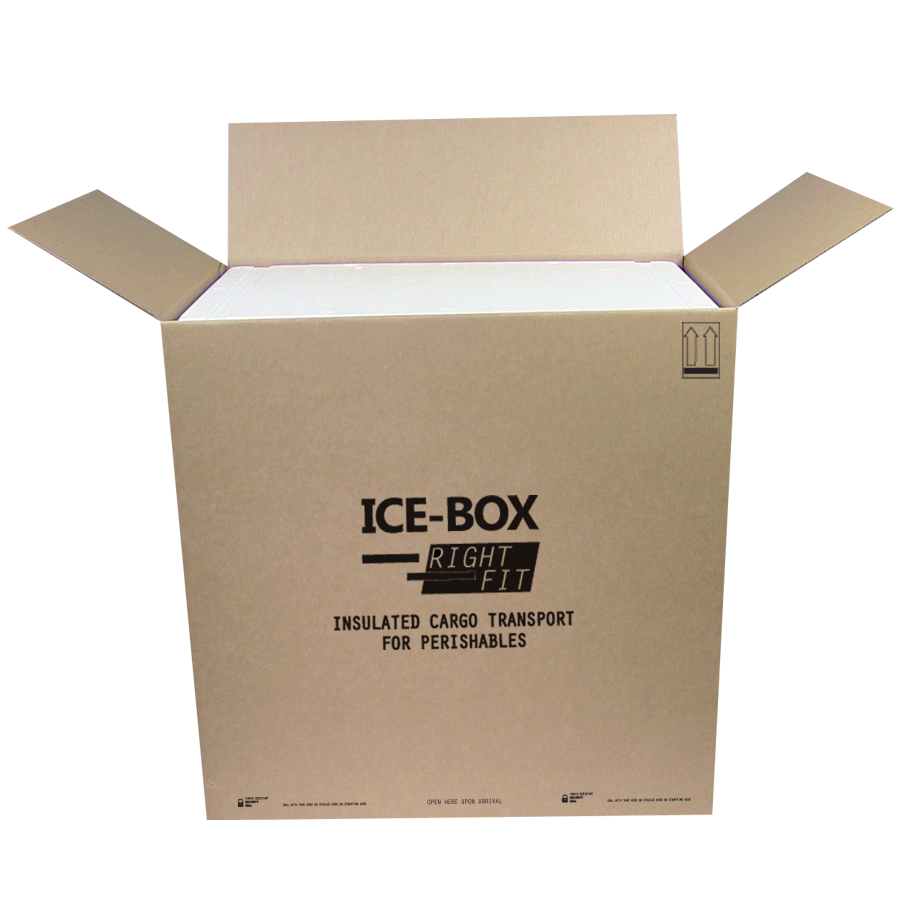 Corrugated Box RSC
Regular slotted container box, single wall, 200# kraft, printed black protects your shipment. Available for short insulated containers.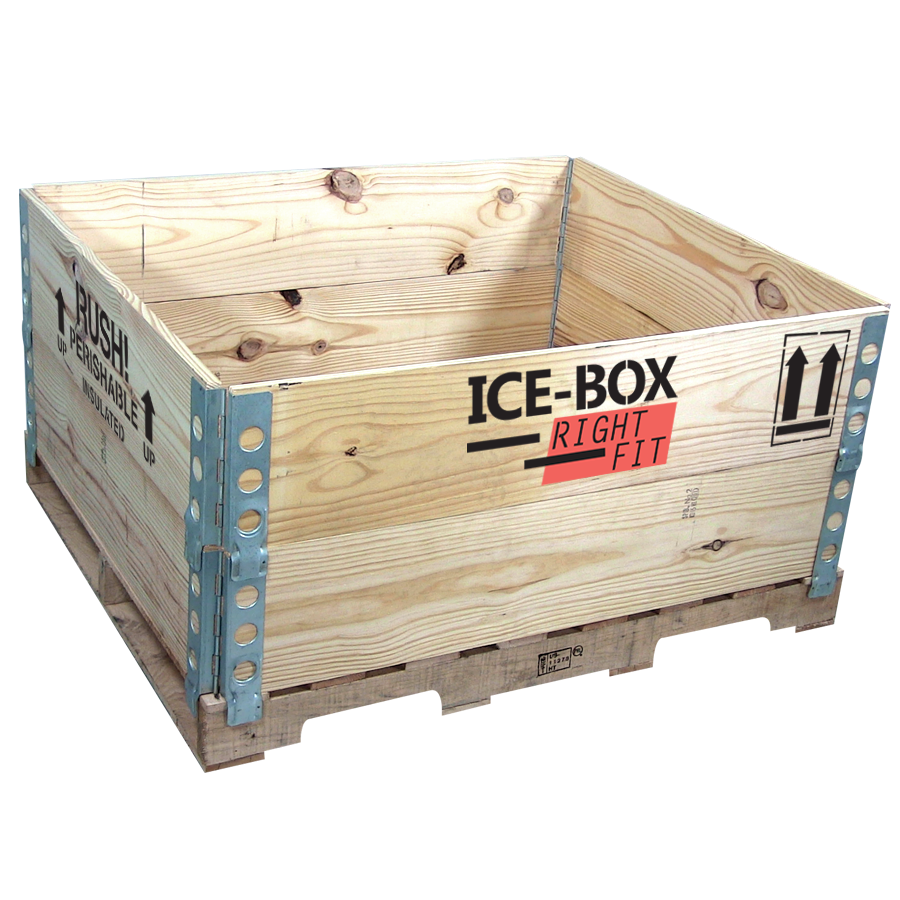 Wood Crate Pallet Collars
Assemble a custom height wood crate for insulated foam collars. Keep adding collars and go as high as you require. Recommended protection for medium to heavy payloads international or domestic. Assembles without tools and folds flat as a space saver. 1/2" plywood and steel hinges assembles in minutes and assures maximum protection. Certified for export. Fits ICE-BOX RIGHT FIT™ foot print insulated liners and heat treated wood pallets. Optional 3/8" wood pattern lid and interior skid liner inserts to protect and secure the contents.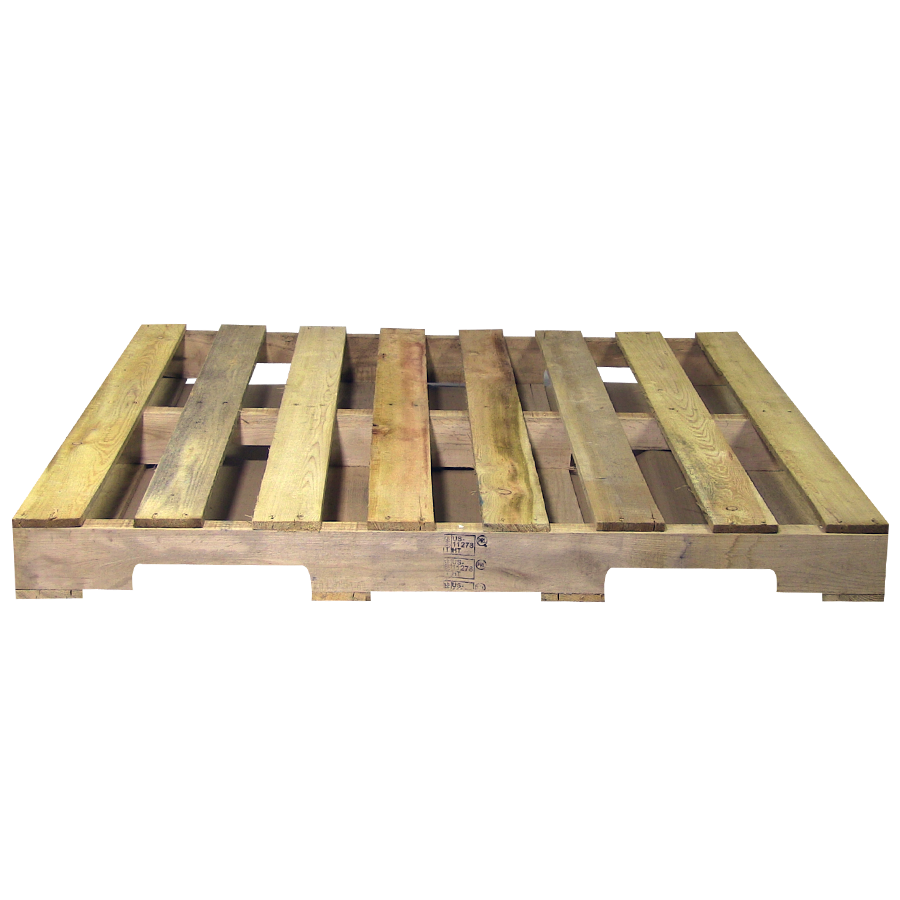 Wood Pallets
New Wood, heat treated pallets meet ISPM 15, export specifications. 4- way fork access, double face.
Bulk Cargo Common Top & Bottom, Extension Collars, and Perforated Tray/Platform Extension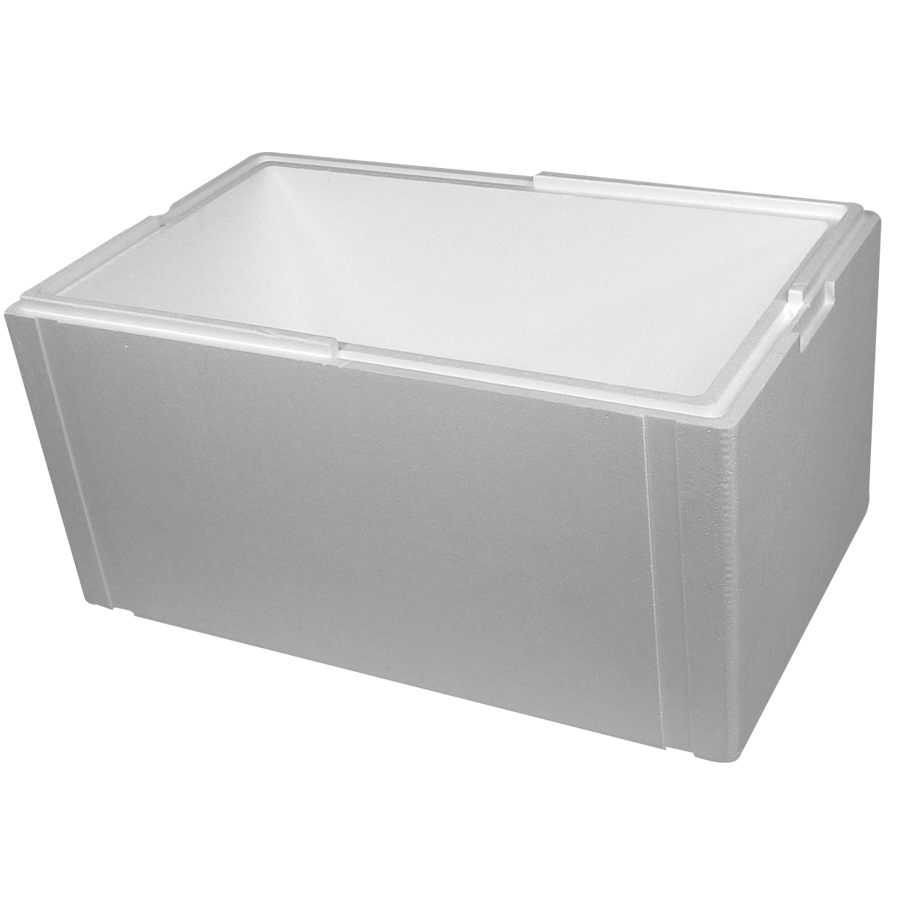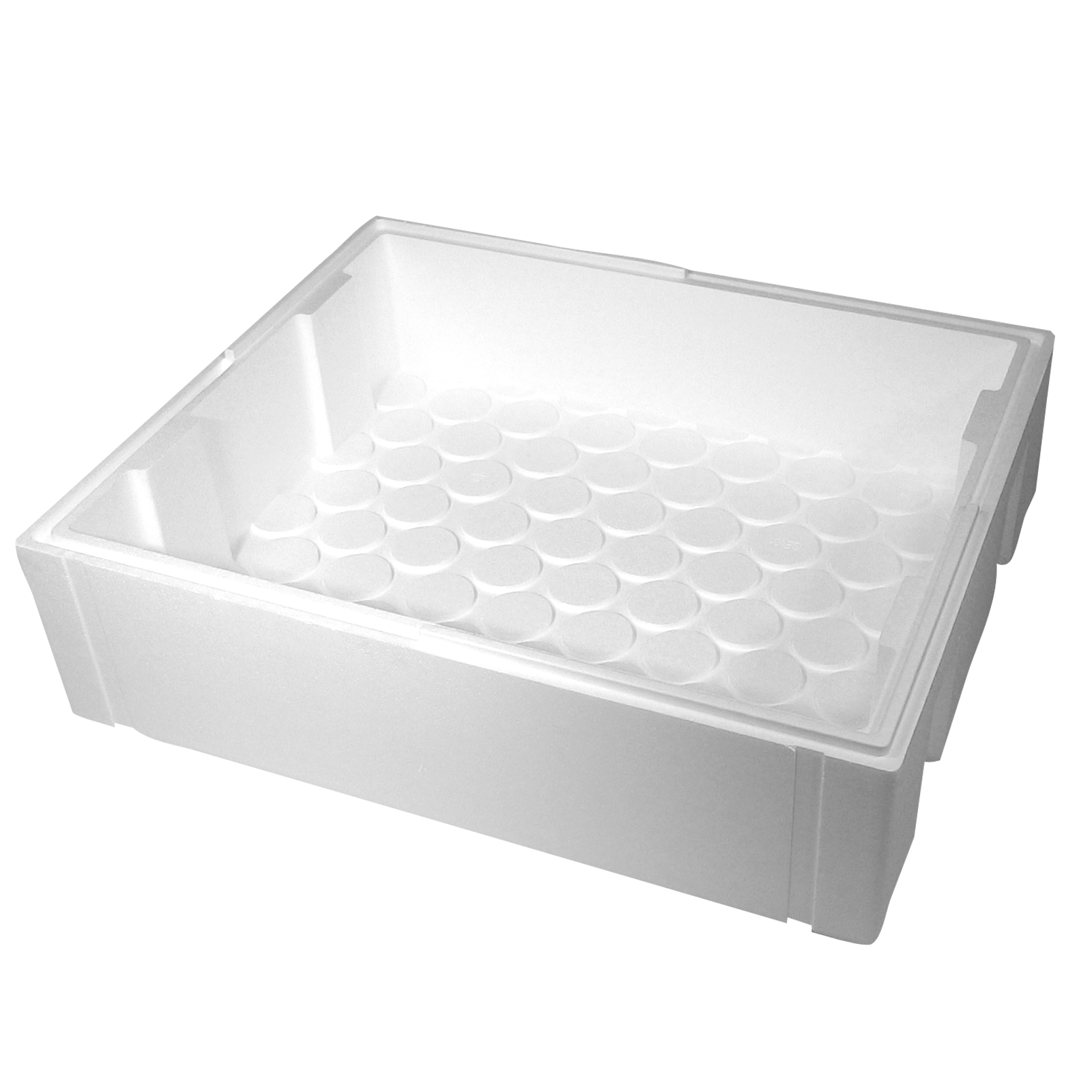 Bulk Cargo Common Top & Bottom
Molded one piece base with raised circle pads allows temperature to circulate and raises product above any collected condensate or spilled liquids. Ergonomic loading design, allows easy loading and unloading. Air tight interlocking seals and thick insulation maintains temperature from external hazards during the shipping cycle. Common Top can invert from a lid to a bottom base. Common bottom can invert from a base to a lid.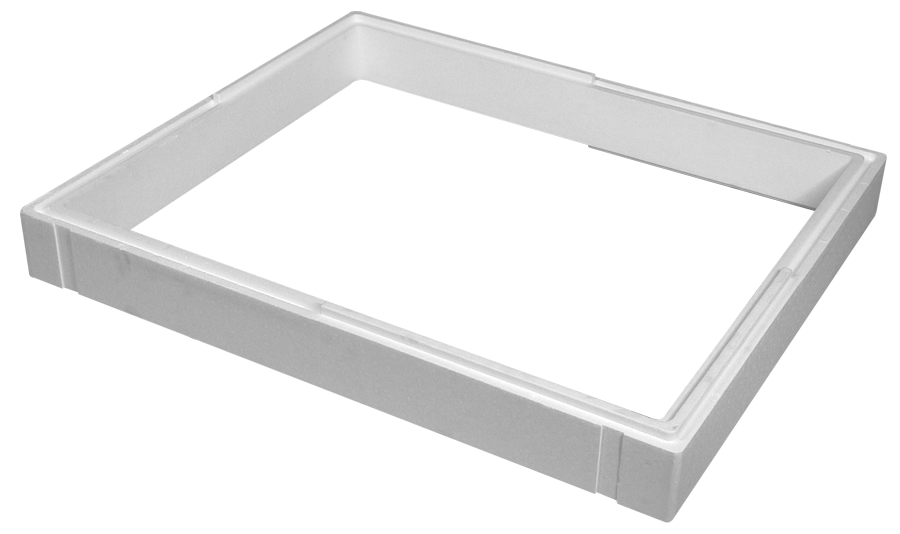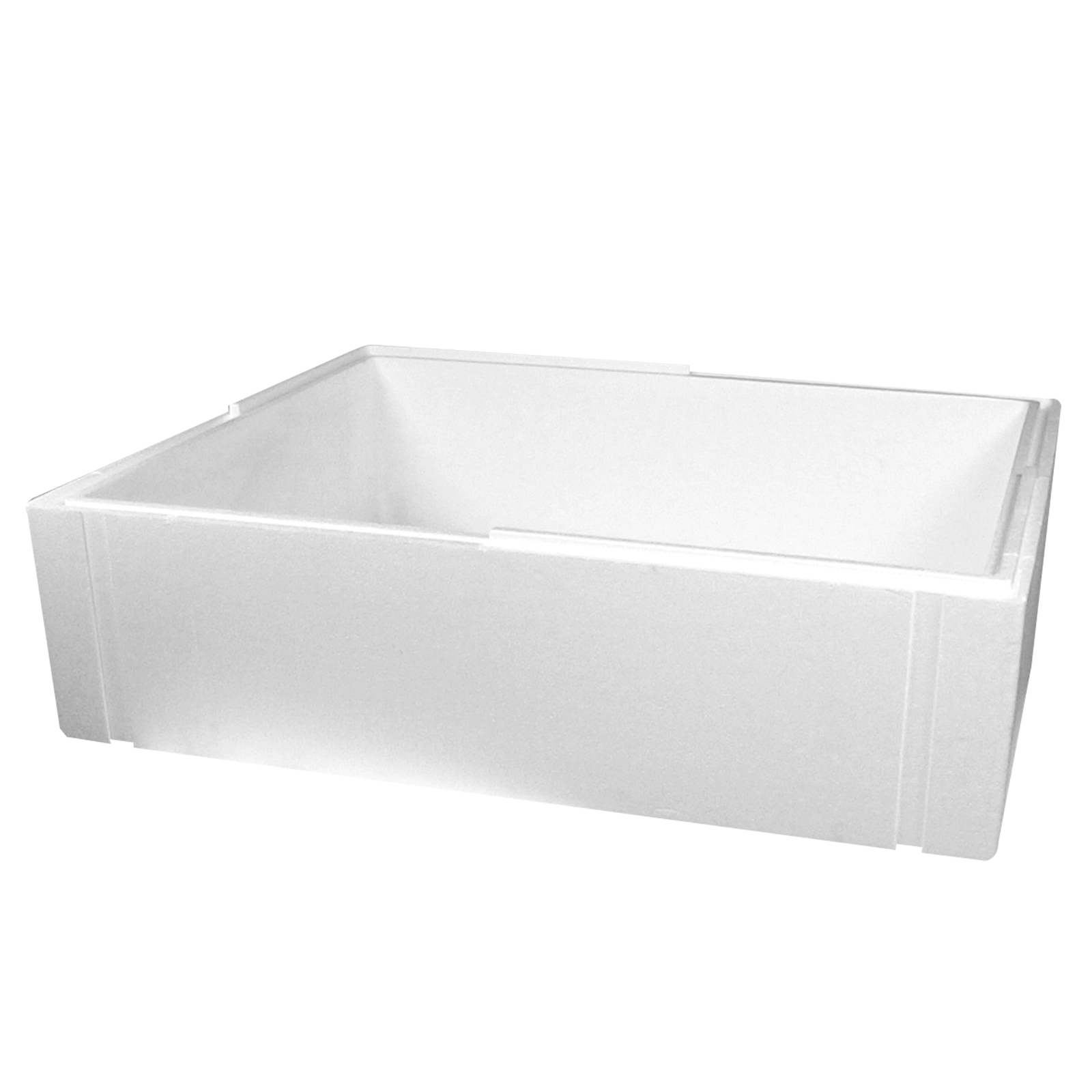 Extension Collars
Add extension collars (EC) to expand chest height, this option increases additional packing space to maximize additional product capacity, all in one bulk container. Add additional EC as needed to accommodate more product at minimal costs. Choose from small, medium, or large, or use any combination of Extension Collars.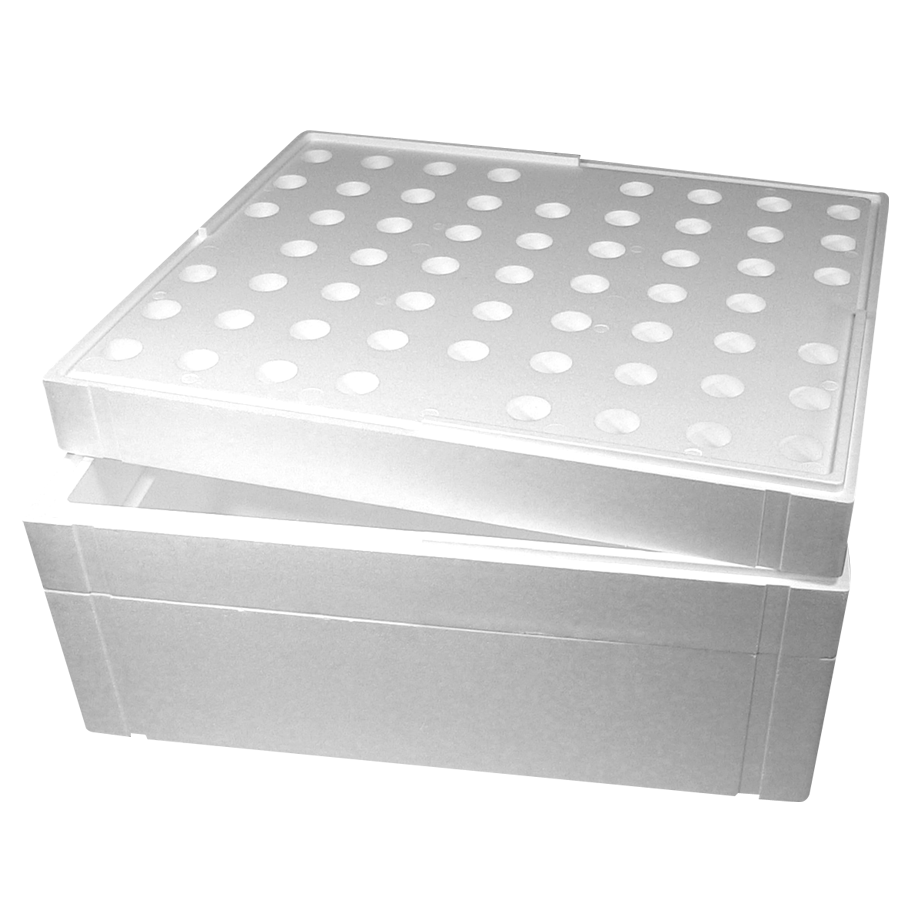 Perforated Tray/Platform Extension
The perforated tray/platform can be inverted to be either a tray or platform. It is ideal for layering products, cold packs or dry ice through the packing procedure. Tested to hold over 550lbs. per tray assures the quality and enduring ability of layering products, cold packs or dry ice. Keeps products or refrigerant in place to assure a uniform temperature control.
PRECONDITIONING CARGO CONTAINERS
Preconditioning perishable product shipments is a method of pre-cooling the insulated containers and fill materials before or during the pack out. This method of preconditioning extends transit time as well as immediately stabilizes interior temperature.
This maintains stable product temperature, without adverse temperature fluctuations and unnecessary prolonged excursions. Use the ABSOLUTE ZERO™ dry ice snow equipment to surface coat the insulated cargo transport container to condition, cool and stabilize the interior temperature.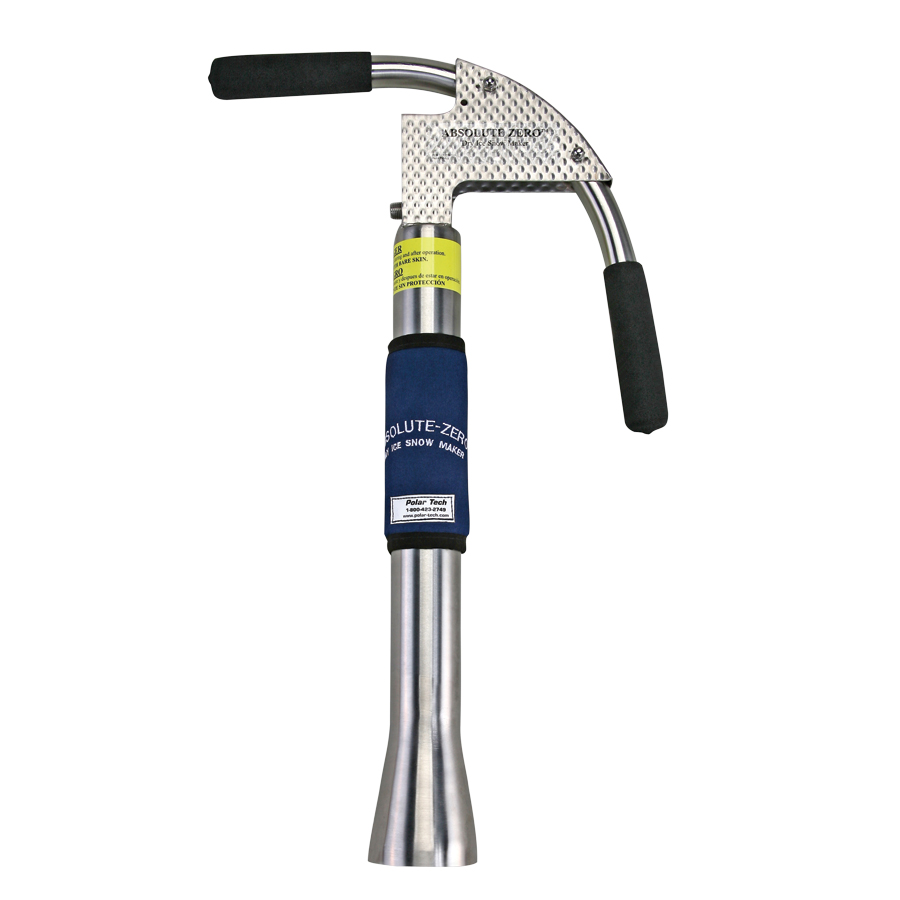 ABSOLUTE ZERO™ Dry Ice Equipment
The ABSOLUTE ZERO™ dry ice snow maker is ideal for precooling ambient EPS insulated foam cargo liners for small to high production, produces up to 17 lbs. / 2 min. – up to 47% CO2 yield. Simple to operate, no moving parts, insulated handles and barrel grip. Basic unit comes complete to produce dry ice snow. AZ3 and AZ4 include an 8 ft. pressure hose, tank connector with gasket, safety pressure relief valve, insulated barrel grip, instruction manual and warranty card. Patent pending. (Shown: AZ4)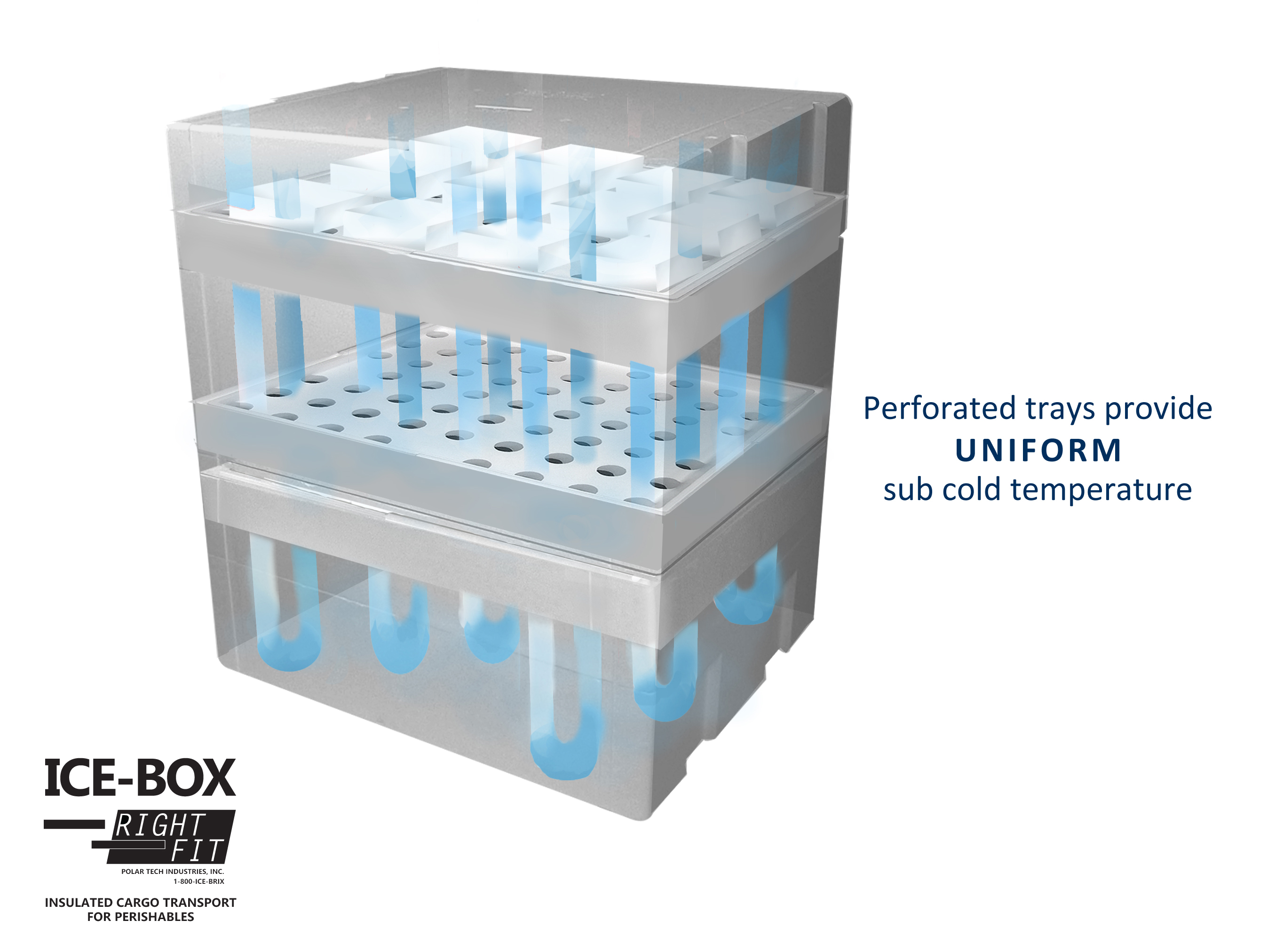 CURTAIN OF COLD
ABSOLUTE ZERO™ Dry Ice Equipment, ICE-BRIX® Saddle Bags, Cold Pockets pouch system, and introducing BLACK ICE™ ICE JUG™.
Use ICE-BRIX® Saddle Bags or Cold Pockets pouch system as a CURTAIN OF COLD that positions cold packs and/or dry ice above and around to surround your payload products. It is as if your products were back in the refrigerator or freezer.
The refrigerant department engineer developed the new BLACK ICE™ ICE JUG™ as the larger stock solution to effectively cool and maintain frozen in the intermediate bulk insulated transports.
It's the longest lasting cold pack just for bulk cargo.
BLACK ICE ICE JUG
Engineered to be an effectively long lasting frozen/cold source in cargo transports for temperature sensitive perishable protection.
The thin rigid plastic shell with handle allows easy grab and pack capabilities as well as efficient transfer of cold energy for days to protect larger quantities of perishables in bulk transport containers.
Ideal for Frozen, Cold and Warm pack outs.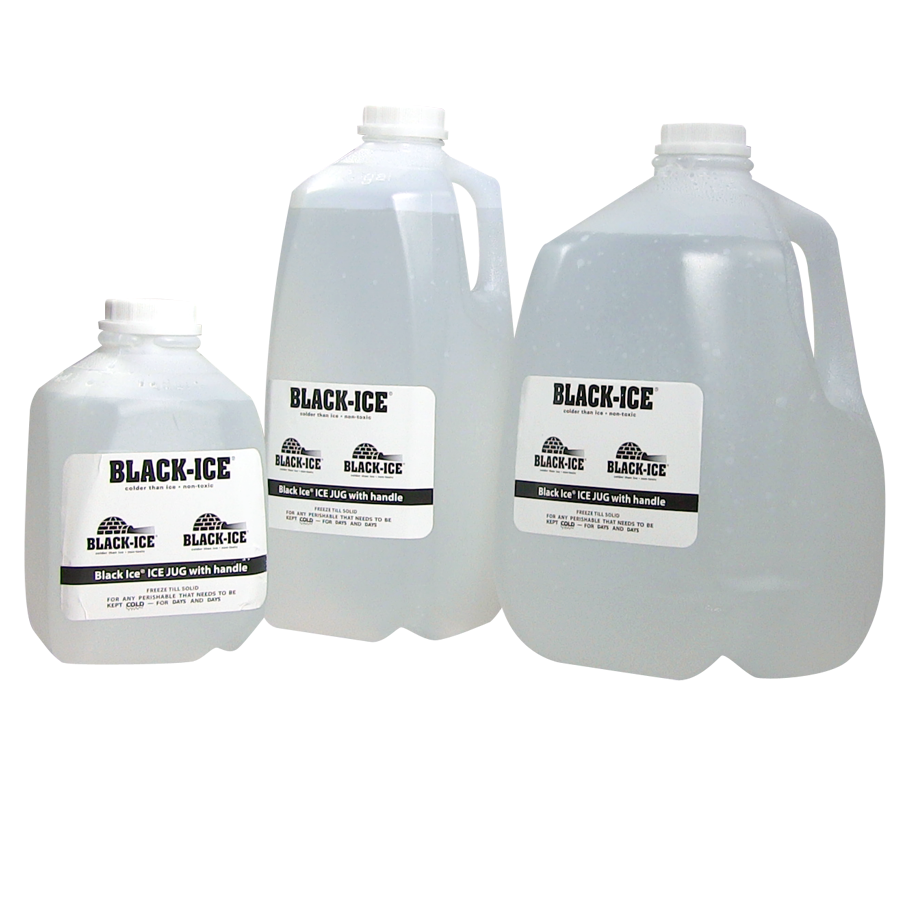 ICE WITH A HANDLE
• Economical
• Non-Toxic, Safe to use
• Re-Usable, Freeze till solid
• Convenient Handle, Grip and Pack
• Long Lasting Ice-Jugs for Cargo
Transports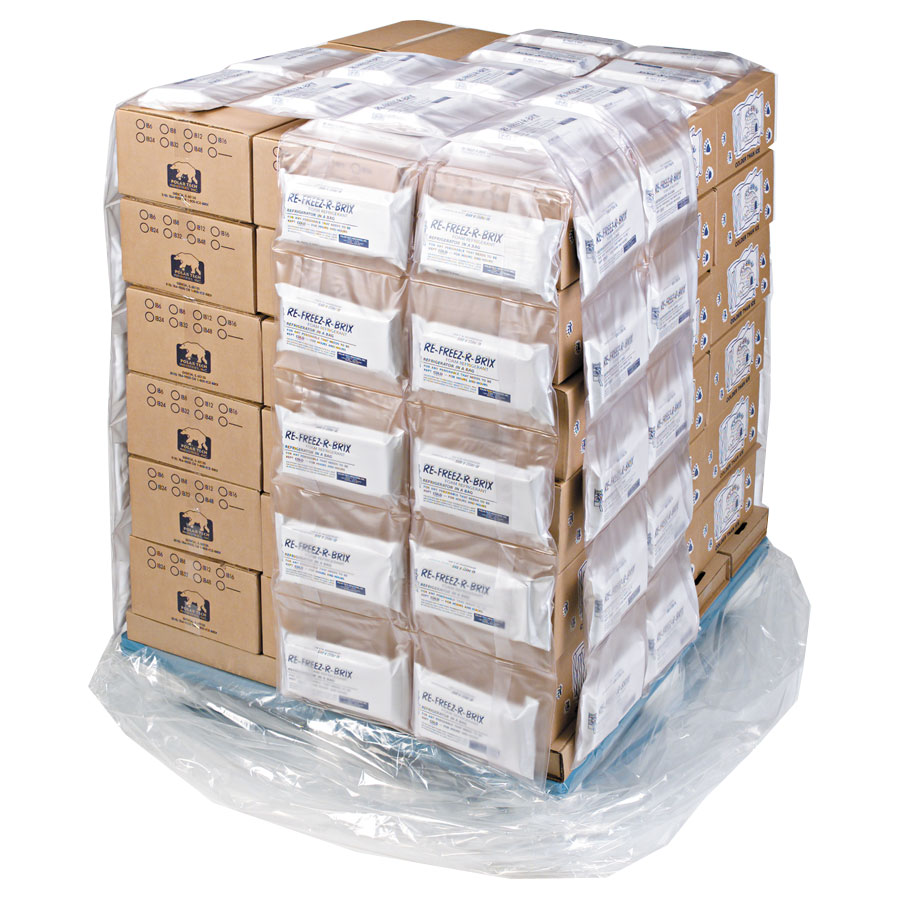 Cold Pockets™
• Create your own uniform CURTAIN OF COLD™ wrap
• Insert either cold packs, dry ice or both
Minimum 4 full wraps are recommended. 7 wraps will provide the ideal full CURTAIN OF COLD™ coverage for a pallet or bulk transport shipper. You can cut them to a length of your choice to surround your product and keep the cold in place during shipping. Use pallet rubber band part #1301, 1401 or 1501 to hold the refrigerant against the product.
ICE-BRIX® Saddle Bags™
• Ultimate in uniform temperature stability
• Maximum temperature sensitive protection for bulk transport of refrigerated frozen products
• Continuous unit
• Reusable, recyclable
• Biodegradable Gel
Available in many sizes and weights.
INTELLECTUAL PROPERTY NOTICE REGARDING INTELLECTUAL PROPERTY
ICE BOX RIGHT FIT Patent Pending. Polar Tech has invested substantial resources to create, develop and market its products and has taken appropriate measures to ensure that Polar Tech's proprietary rights in and to such products are protected. You are hereby notified that Polar Tech will pursue all available legal remedies to prevent or stop any misuse, misappropriation or infringement of any of Polar Tech's trade secrets, trademarks, copyrights, patents or other intellectual property rights. Depending on the nature of the particular violation, anyone who is found to have violated Polar Tech's proprietary rights could, for example, be liable for three times the actual damages suffered by Polar Tech or statutory damages of $150,000 or more. Polar Tech could also be awarded its costs and attorney's fees. ln certain cases, the violation may constitute a crime which could result in a 5 year prison term and a ­fine of $250,000 or, in the case corporate offenders, a ­fine of $500,000. Absolute Zero, BLACK ICE, ICE-BRIX, ICE-BOX Right Fit, RE-FREEZ-R-BRIX are some trademarks of Polar Tech Industries.
Is ICE-BOX Right Fit™ right for my company?
Let's talk.
Email our experts to get the ball rolling.