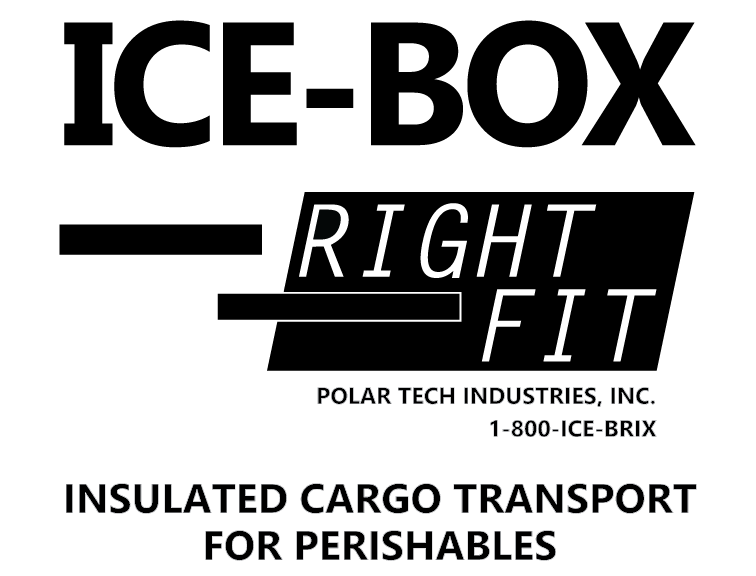 Insulated Bulk Transports

International // Domestic
ICE-BOX RIGHT FIT™ Insulated Cargo Transport Container System
ICE-BOX RIGHT FIT™ is the ultimate in thermal insulated cargo transport containers. Features include: economical, variety of sizes, 1 way or reusable, molded EPS foam with tight fitting lids and components. Select desired options such as foam units, foam units with KD telescoping corrugated box or foam units with wood crates and skids. Improved refrigerants and patent pending systems control and stabilize temperature sustainability. Any bulk product that is temperature sensitive can be safely shipped in our ICE-BOX RIGHT FIT™ Insulated Cargo Transports.
Maintain Temperatures with a CURTAIN OF COLD™ System
Use ICE-BRIX® Saddle Bags or Cold Pockets pouch system as a CURTAIN OF COLD™ that positions cold packs and/or dry ice above and around to surround your payload products. It is as if your products were back in the refrigerator or freezer. The refrigerant department engineer developed the new BLACK ICE™ ICE JUG™ as the larger stock solution to effectively cool and maintain frozen in the intermediate bulk insulated transports. It's the longest lasting cold pack just for bulk cargo.
These systems are available direct through select packaging catalog companies or your local packaging distributors. Now your local packaging suppliers can effectively supply and support your "COLD CHAIN" and regulatory authorities' requirements. It is no longer necessary to be constrained with the high cost proprietary packaging from other cold chain suppliers.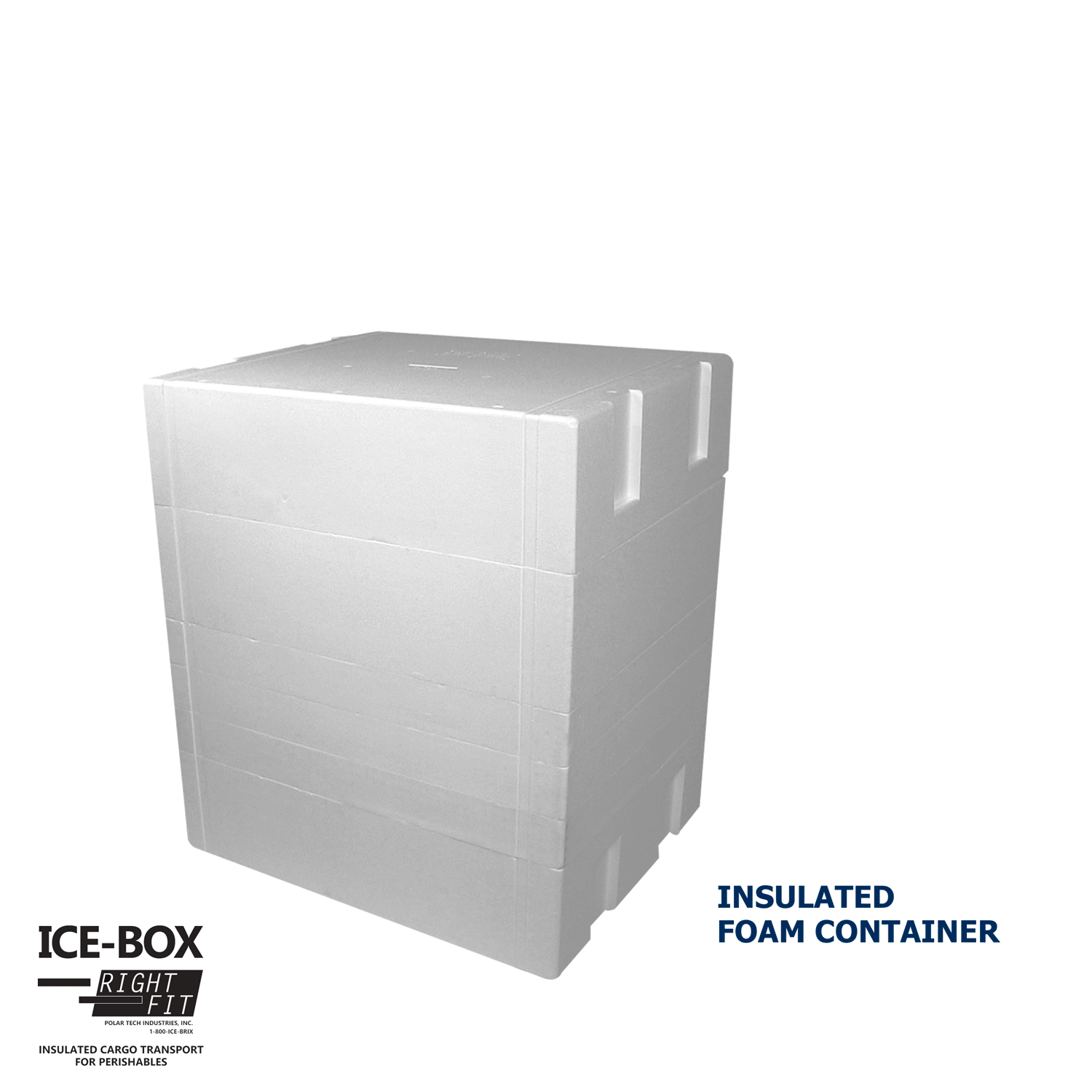 ICE-BOX Right Fit™ Components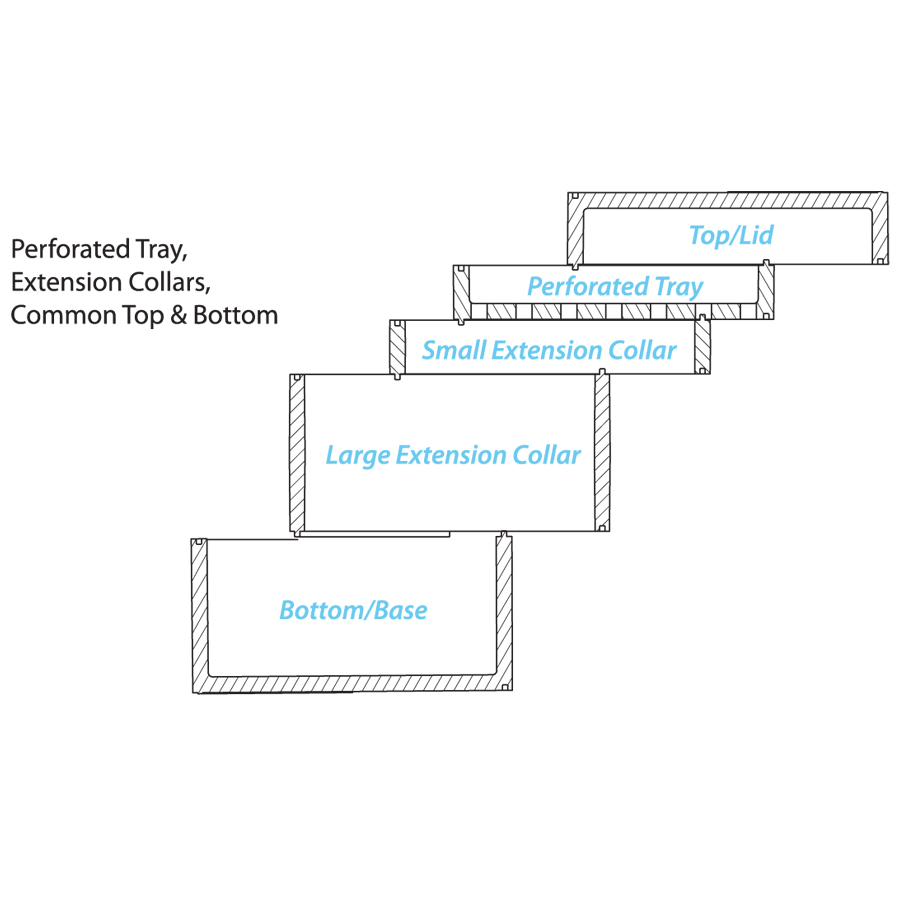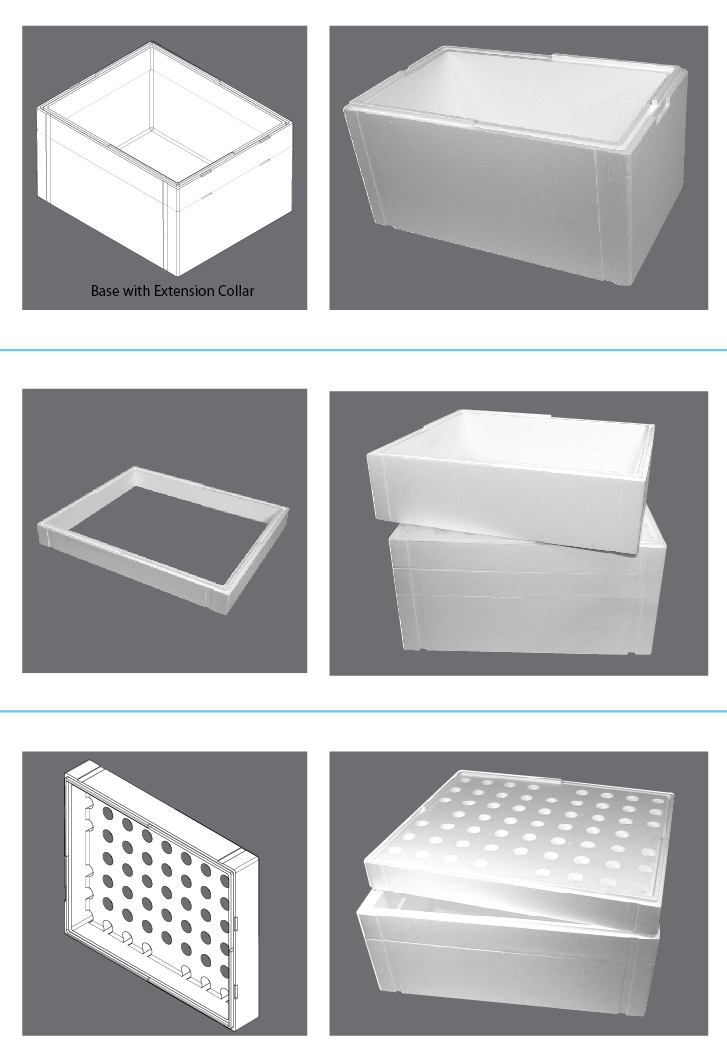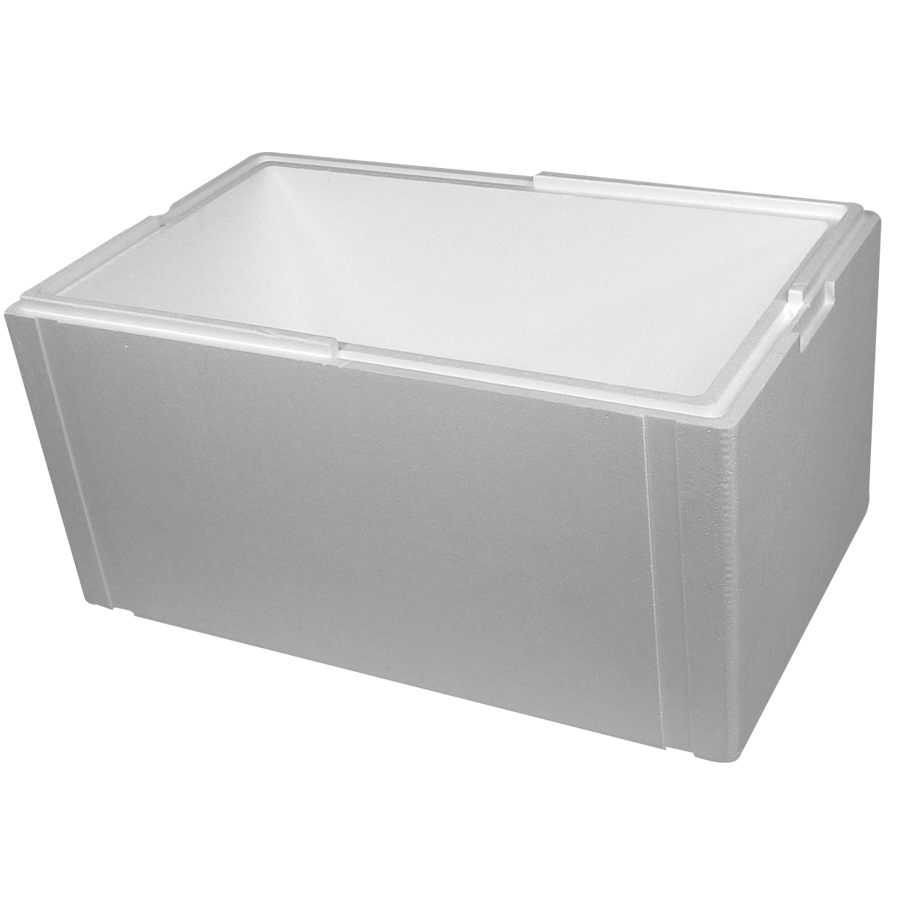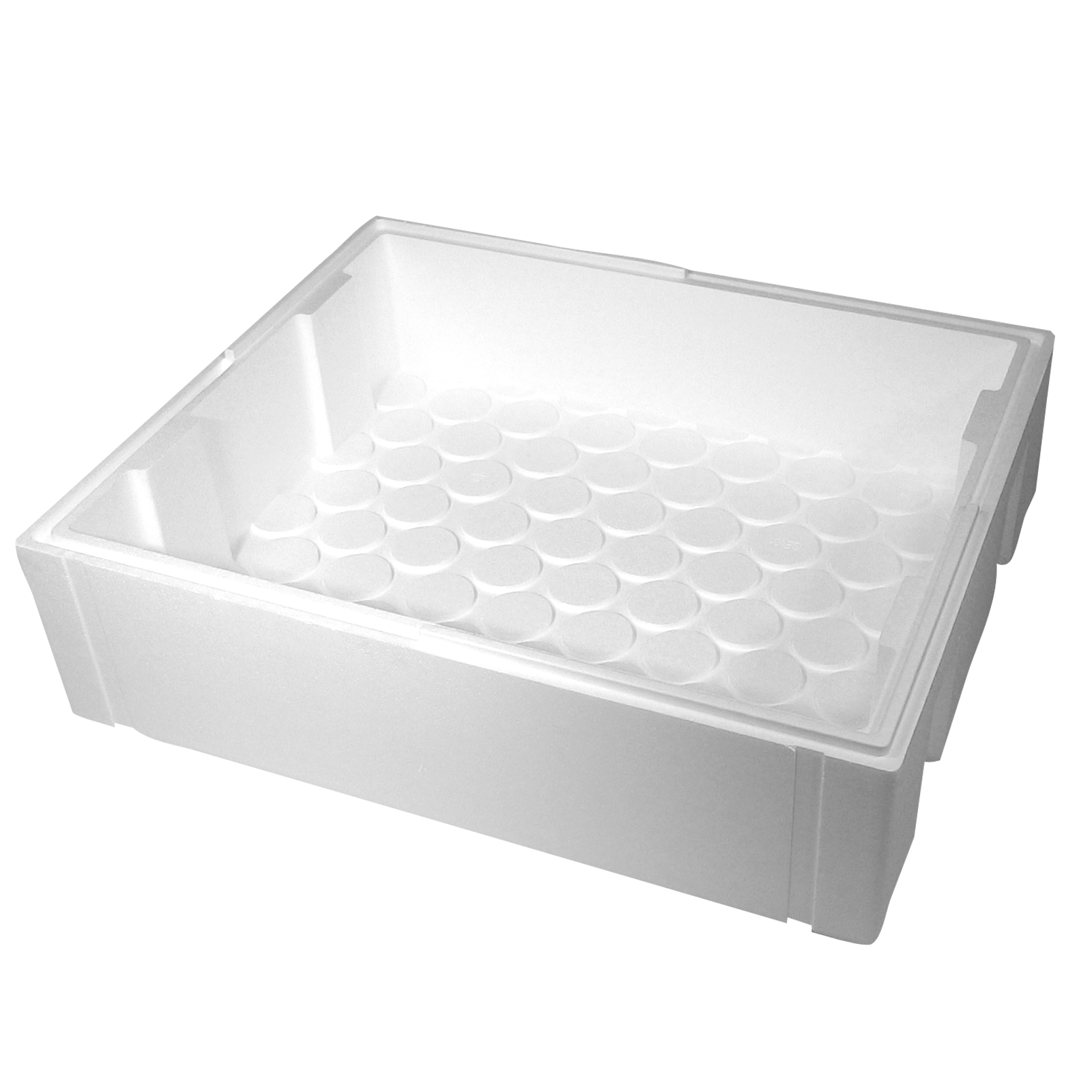 Bulk Cargo Common Top & Bottom
Molded one piece base with raised circle pads allows temperature to circulate and raises product above any collected condensate or spilled liquids. Ergonomic loading design, allows easy loading and unloading. Air tight interlocking seals and thick insulation maintains temperature from external hazards during the shipping cycle. Common Top can invert from a lid to a bottom base. Common bottom can invert from a base to a lid.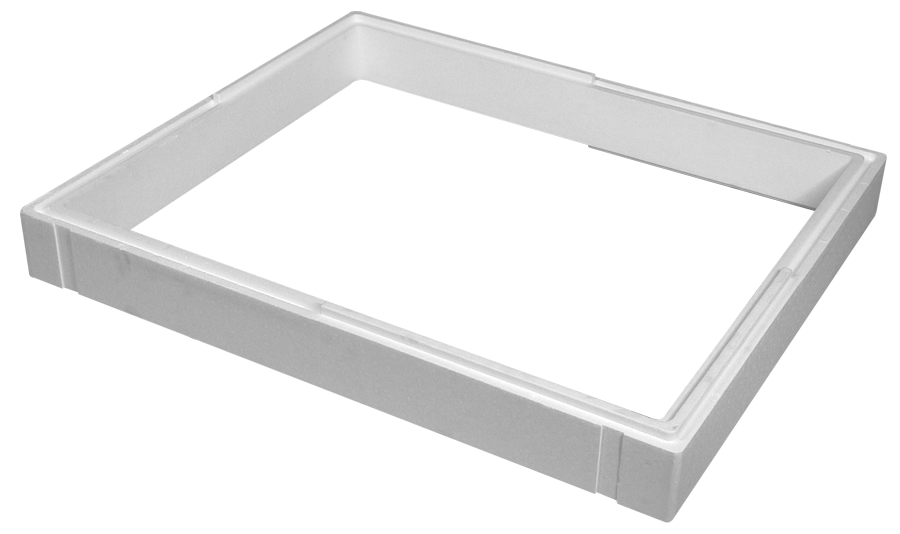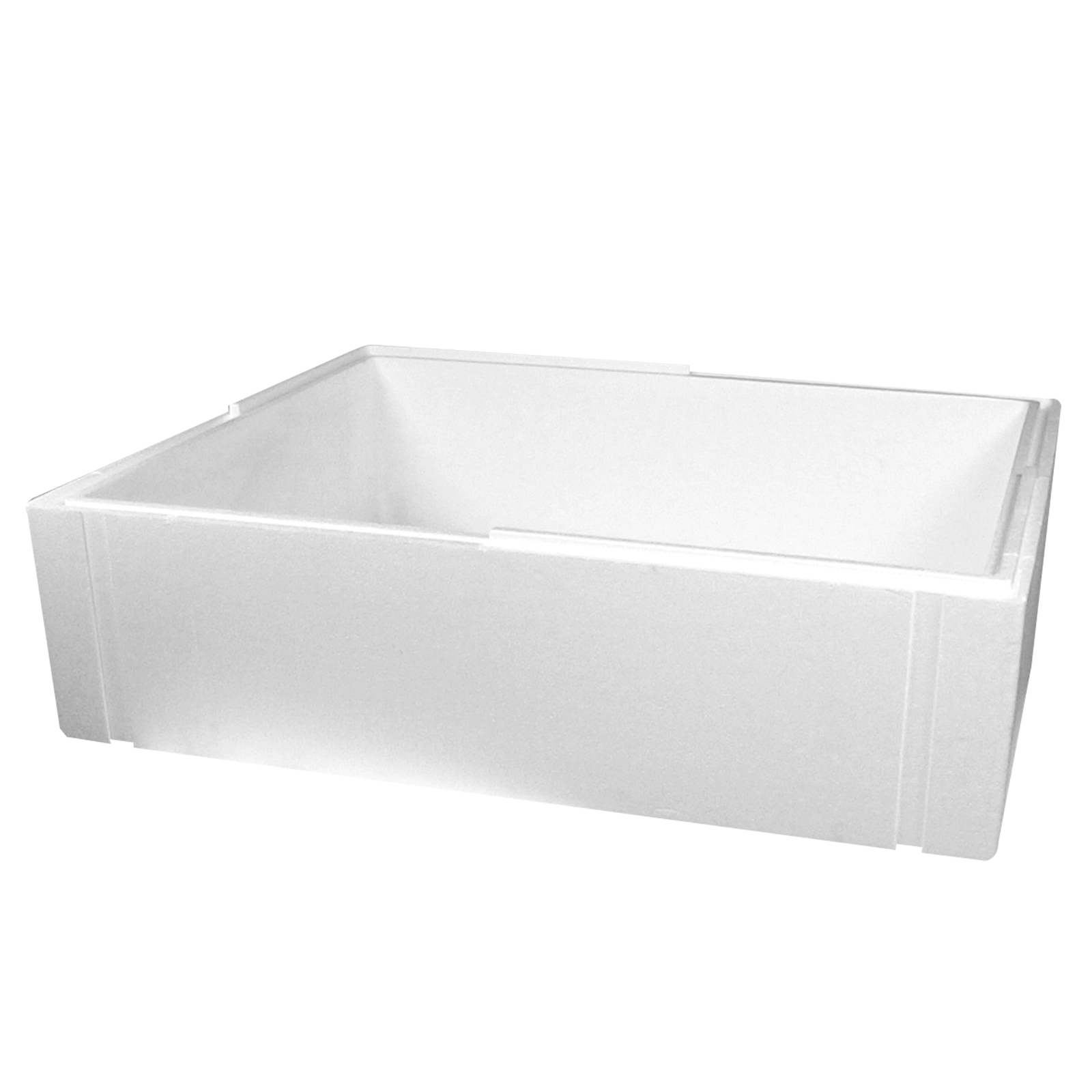 Extension Collars
Add extension collars (EC) to expand chest height, this option increases additional packing space to maximize additional product capacity, all in one bulk container. Add additional EC as needed to accommodate more product at minimal costs. Choose from small, medium, or large, or use any combination of Extension Collars.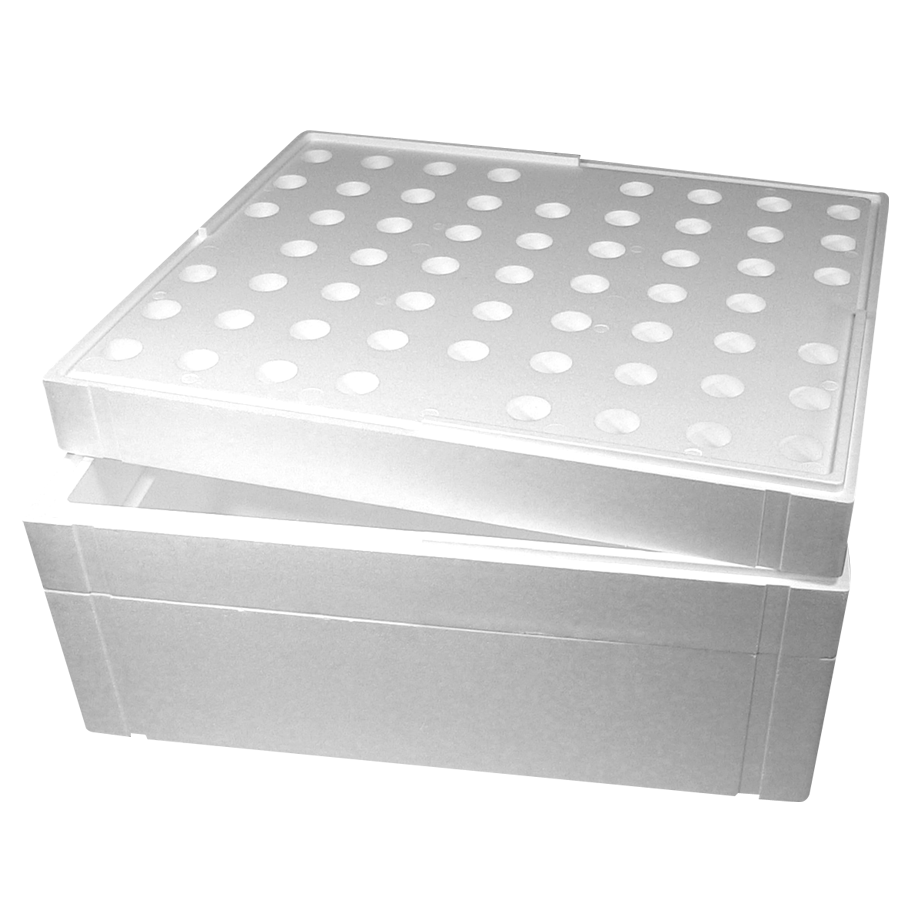 Perforated Tray/Platform Extension
The perforated tray/platform can be inverted to be either a tray or platform. It is ideal for layering products, cold packs or dry ice through the packing procedure. Tested to hold over 550lbs. per tray assures the quality and enduring ability of layering products, cold packs or dry ice. Keeps products or refrigerant in place to assure a uniform temperature control.
Partial Telescoping Containers
Partial telescoping (PT) adjustable two-piece easy load design box expands taller to accommodate various heights. Sold as a complete two-piece adjustable partial telescoping box. Assemble a PT box for insulated foam collars.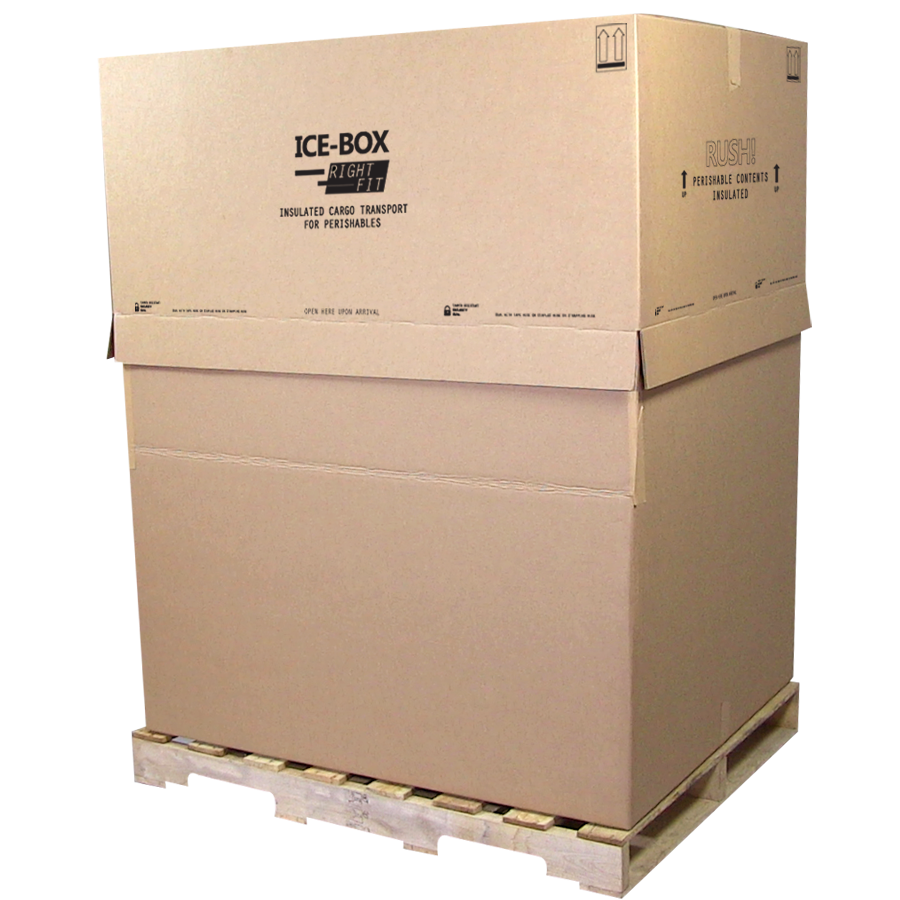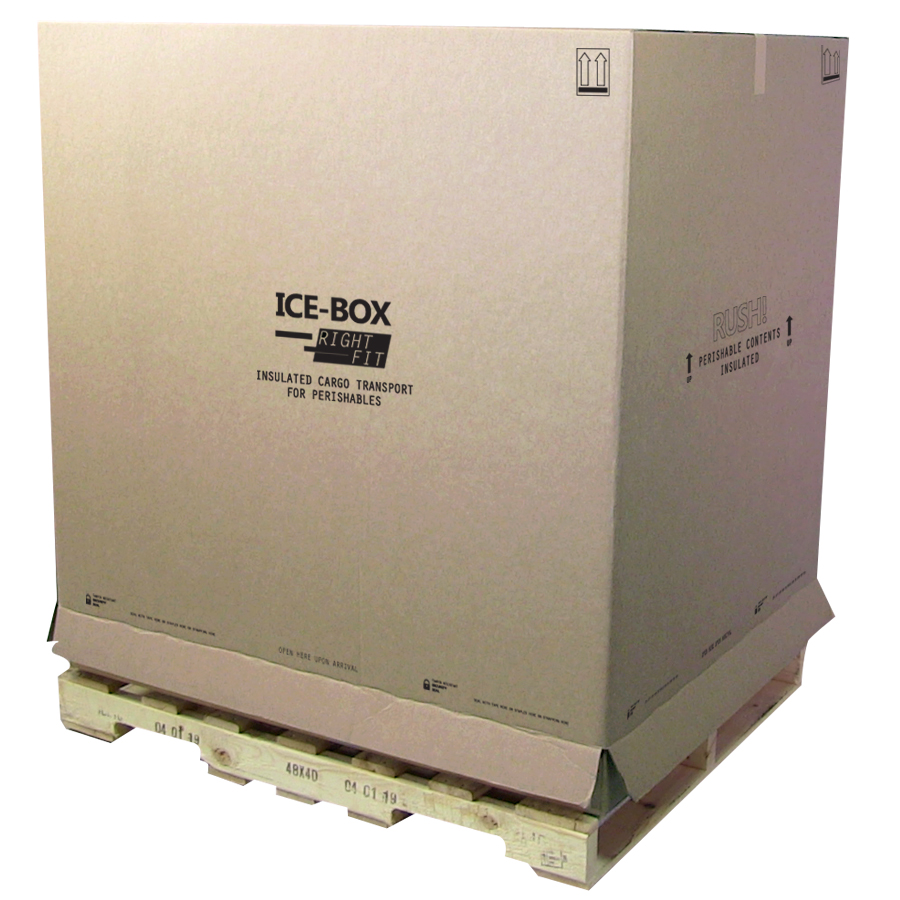 Top Lid
Position corrugated lid over insulated liner and bottom corrugated box. Top lid is printed with ICE-BOX RIGHT FIT™, insulated for perishables and up arrows, 275# single wall corrugated. Optional self seal permanent adhesive closure, tamper evident feature available upon request.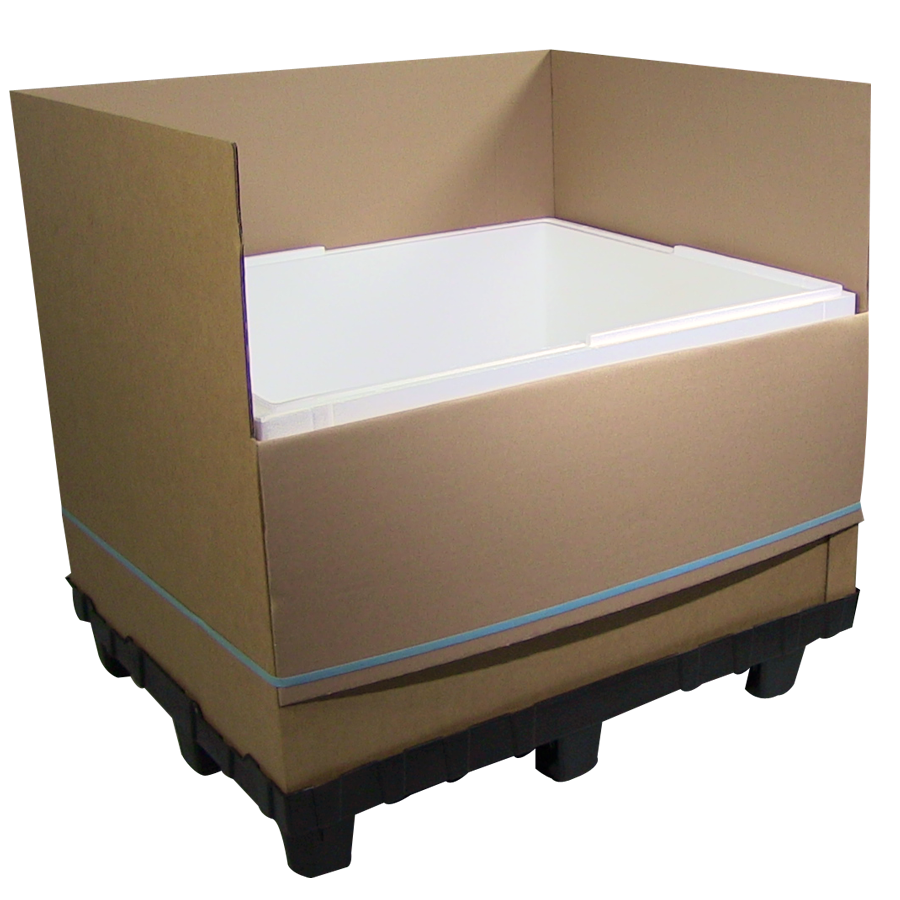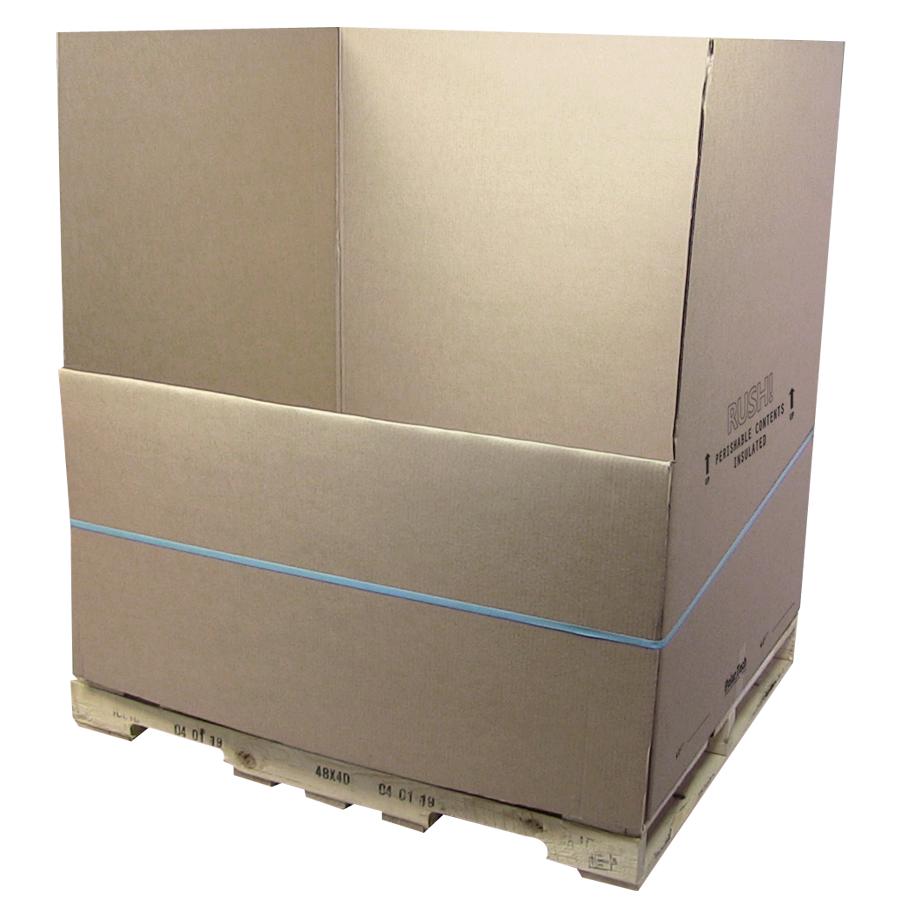 Bottom Base
Bottom telescoping base is ergonomically designed with slit and scored drop down front panel, ideal when bottom portion is loaded. Position flap up and secure with tape. Heavy duty 350# (DW) double wall provides durable protection during transit.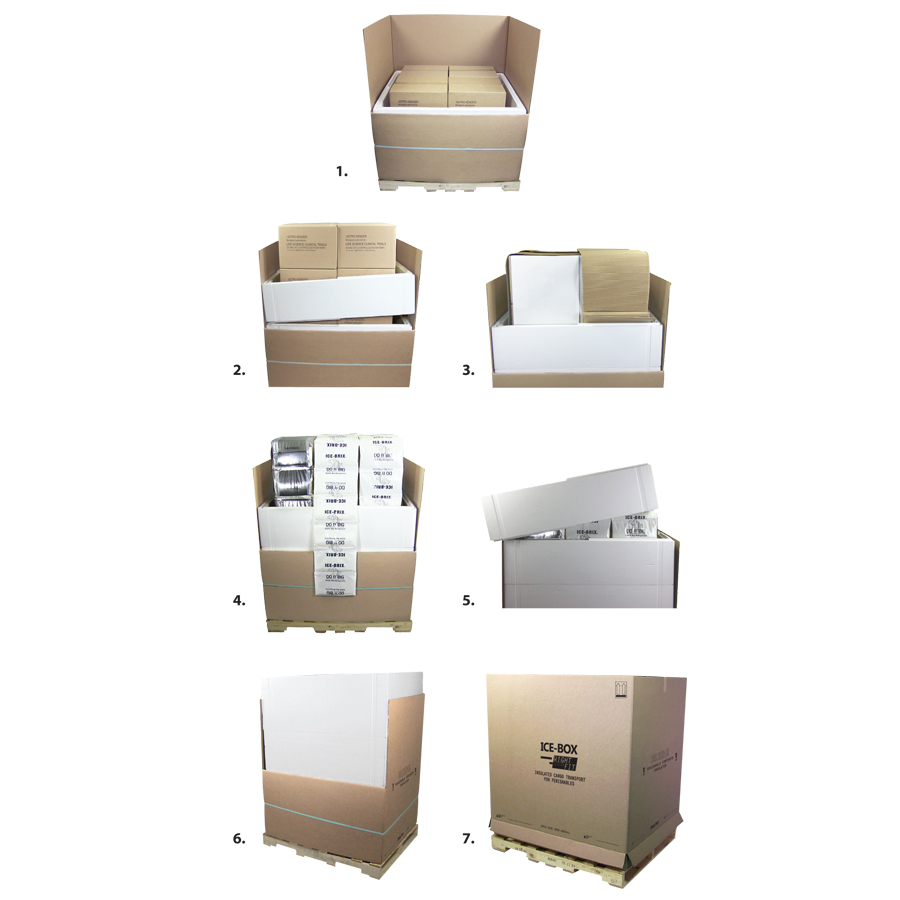 Is ICE-BOX Right Fit™ right for my company?
Let's talk. Email our experts to get the ball rolling.
Trusted Source: Polar Tech